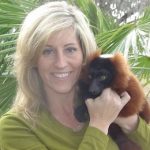 Dr. Jenifer Chatfield is the Staff Veterinarian at 4J Conservation Center, an instructor for FEMA/DHS's agroterrorism courses, National Disaster Medicine System Team Member, and coordinates a county health department's plan for a bioterrorism response. She graduated with a Doctor of Veterinary Medicine degree from Texas A&M University's College of Veterinary Medicine. Immediately following graduation, she worked as the Associate Veterinarian at the San Antonio Zoo as well as a part-time/relief associate at the Animal Emergency Room in San Antonio, Texas. Dr. Chatfield has pursued both emergency medicine and zoo medicine throughout her career. She has owned two emergency clinics, in Florida and Texas, and has been the Senior Veterinarian in a zoological park. Additionally, Dr. Chatfield was the veterinarian supervising the biomedical research program at the University of Texas at Brownsville for four years. She has completed fieldwork in Madagascar and South America and continues to explore new areas of medicine as an Associate Editor for the Journal of Zoo and Wildlife Medicine.
Dr. Chatfield was the Florida Department of Health's zoonotic and vector-borne disease program veterinary and agricultural liaison for several years and continues to be heavily involved in public health efforts through veterinary medicine as a Medical Reserve Corps member, Associate Editor of the international "One Health Newsletter," and recently developed the "Veterinary Support to Zoological Animals in a Disaster" for the National Disaster Medical System's National Veterinary Response Team training curriculum and was recently promoted to the position of Regional Leader for the program.
Dr. Chatfield currently serves as the Chair of the Florida Veterinary Medical Association's (FVMA) Public Health Committee and Co-Chair of the FVMA's Disaster Response Committee. She was also an original founder of the Pasco Hernando Veterinary Medical Association (PHVMA) and has served as the PHVMA's President since 2008. Recently, Dr. Chatfield was selected as a Future Leader by the AVMA and was the recipient of a Gold Star award from the Florida Veterinary Medical Association. Dr. Chatfield has published many peer-reviewed articles on varied topics including pharmacokinetics, clinical medicine, and infectious disease.
---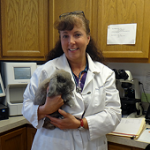 Dr. Terri Readdy is a second career veterinarian following nine years as a research scientist in the areas of medical & agricultural biotechnology and living in New York, Philadelphia and Birmingham.  After graduating from Mississippi State University's College of Veterinary Medicine she moved to Tampa to practice.  With a passion for challenges she has found her primary interests lie in pediatric and geriatric small animal medicine, the human/animal bond and family issues along with some extra skills in avian, reptile and pocket pet medicine.
Dr. Readdy is an active member of the American Veterinary Medical Association, Association of Avian Veterinarians, Association of Reptilian and Amphibian Veterinarians and Association of Exotic Mammal Veterinarians. She serves as the primary veterinarian for Florida Parrot Rescue and is currently providing relief work in various clinics throughout the local area.  Outside of work, Dr. Readdy  is married and raising teen boys adopted in 2006, adding a pair of dogs, a couple of cats and a trio of birds to round out the zoo.  Dr. Readdy spends her free time volunteering with her church in local mission activities and attempting to travel whenever possible.
---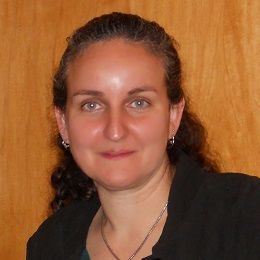 Dr. Mara Ricci is a small-animal veterinarian and owner of New Tampa Animal Hospital in Lutz.  Prior to opening her own hospital, Dr Ricci practiced at two multi-doctor Pasco county veterinary hospitals for 12 years.  Dr. Ricci's veterinary interests include  companion animal preventive medicine, soft-tissue and orthopedic surgery, and caprine pet and herd medicine.  Following graduation from Land O'Lakes High School, Dr. Ricci attended University of South Florida in Tampa, and earned her veterinary doctorate from the University of Florida.  Dr. Ricci resides in Wesley Chapel with her husband and their home-schooled daughter.   In her free time, she enjoys spending time with her family and their dairy goat herd, silversmithing, undertaking new creative challenges, and reading.
---

Dr. Lee Burstiner has been practicing emergency medicine for more than 20 years, with the majority of time at BluePearl. His interests include wound management, surgical closure techniques, and emergency surgery. He has had two years of residency training in small-animal surgery and he is pursuing certification in small animal rehabilitative medicine. He has served in many capacities as an advocate for veterinary medicine, including as past president of the Ridge (Polk County) Veterinary Medical Society and the Hillsborough County Veterinary Medical Society.
---

Dr. Scott M. Dieter was raised in Northampton, PA. He served his country in  the United States Navy as a hospital corpsman. He received his Bachelor of Science Degree in Biology from Penn State University and his Veterinary Medical Degree from Louisiana State University. Dr. Dieter has been practicing veterinary medicine for over 15 years. Aside from companion animal medicine, his interests include orthopedic and soft tissue surgery. His pet family includes a French Bulldog named Dozer and two Boston Terriers named Bodhi and Petey. He likes to spend his off time with his wife, AnneMarie, and their three puppies. He also enjoys playing golf and watching football and hockey.​  Dr. Dieter currently practices at Advanced Veterinary Hospital in Holiday, Florida.